Nicki Minaj Abruptly Cancels Performance at Fraudulent Chinese Music Festival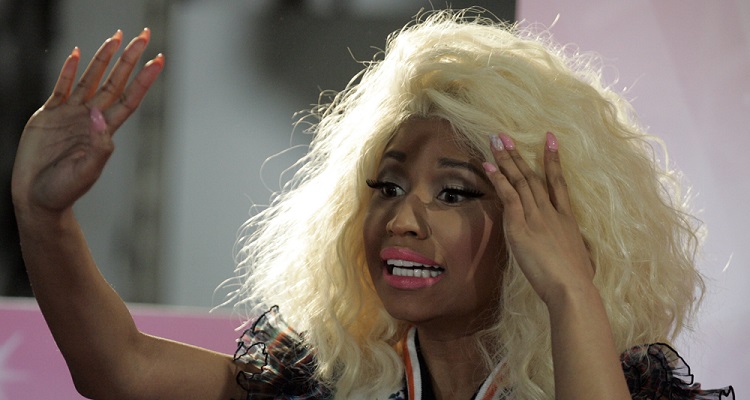 So, who's to blame – Nicki Minaj or the original DWP Music Festival?
Last weekend, Nicki Minaj boarded a plane to China.
After landing at Shangai, she warmed up backstage to perform a 90-minute set at the DWP China Festival.
Then, right before the show, Nicki Minaj received bad news – the festival was a fake.
The Djakarta Warehouse Project – DWP for short – holds an event each year in Bali.  This year's edition, held in Jakarta, featured DJ Snake, The Weeknd, and Alesso, among others.
The event in question used DWP's name and lettering.  Posters for the event stated Nicki Minaj would perform along with Luis Fonsi and Blasterjaxx.  DWP China Festival took place in Shanghai's Qingpu District on November 17th and 18th.
A few days before Minaj arrived in the country, Ismaya Group, organizers of the legitimate upcoming DWP China event, denied any affiliation with the Shanghai event.
"The event rumored to take place in Shanghai on 17th & 18th of November 2018 is an unauthorized use of DWP trademark.

"DWP as a brand has no association with the event.

"The alleged lineup artwork of DWP China, which has been circulating online, is unauthorized."
Ismaya Group had set up social media accounts and a website for DWP China earlier this year.  The authentic event would've taken place in November.
In order to see the popular hip-hop artist perform in Shanghai, fans paid up to ¥3,000 ($432).  Around 1,000 fans crowded the National Exhibition and Convention Center.  According to ABC Australia, they also spent hundreds of dollars in plane tickets.
Once she found out about the event, Minaj reportedly refused to perform.  On a video posted on Twitter, fans are seen chanting her name, hoping she would come onstage.
Wow what a mess but i hope nicki is okay❤go stream barbz#nicki #minaj #nickiminaj #china #shanghai #chinadwp pic.twitter.com/DYlwHwy6H8

— 🍪11/29🍪 (@MOHMINAJ) 18 de noviembre de 2018
Yatai Huaying, the company which organized the unauthorized DWP China event, lambasted the artist's poor work ethic.
"Minaj failed to arrive on time, which severely delayed the show.

"After she arrived, she still refused to perform despite fans clamoring for her and the organizers negotiating with her for two hours."
The company also slammed Ismaya Group for denying any affiliation to the fraudulent music festival.
"Ismaya Group unilaterally publishes untrue messages on the Internet in violation of the spirit of the contract."
Following major criticism over the event, Yatai Huaying shared a legal notice, claiming Ismaya Group had granted organizers the right to use DWP's trademark.
Nicki Minaj has yet to officially comment on the abrupt cancellation.
At the airport on her way home, she reportedly told fans,
"I'll be back you guys, for my real fans in Shanghai, in China, I love you so much.

"I'll be back with a better partner this time, OK?"
---
Featured image by Eva Rinaldi (CC by 2.0).